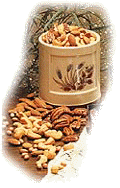 Mixed Nuts
Al-Meda Chocolate Covered Nuts are a real favorite with many people. We dip tender, jumbo pecan halves; crisp, huge whole cashews; or the finest redskin California almonds in pure Al-Meda milk and dark chocolate. Your choice of nuts, we'll pack to your liking.
Fresh Nuts!!
These are the same high-quality nuts we dip in chocolate. For anyone who wants to enjoy great tasting nuts naturally, they are available year round. Packed in plastic bags, tied with colorful ribbon.
Roasted Salted Cashews: Our giant cashews are the ones they talk about. Remarkably large, they're also rich with natural flavor, lightly dusted with salt, and a wonderful buttery flavor. They'll disappear in a hurry!
Mammoth Pecan Halves: The size of these pecans are unbelievable: 1 1/4" long and 3/4" wide! These Mammoth Pecan Halves arrive fresh from our grower with all the purity and unsalted sweetness they were grown with, absolutely pure!
Fresh Roasted Salted Almonds: Almonds make the perfect snack: high in protein, nutrients and all the good flavor everyone enjoys. These almonds come to us fresh from the state of California.
Fresh Mixed Nuts: We combine all three nuts together for your enjoyment. Cashews, Pecan Halves, and Almonds. you get a third of each nut variety. We don't skimp on the cashews either, like you get with some mixed nuts.
---